News Home
---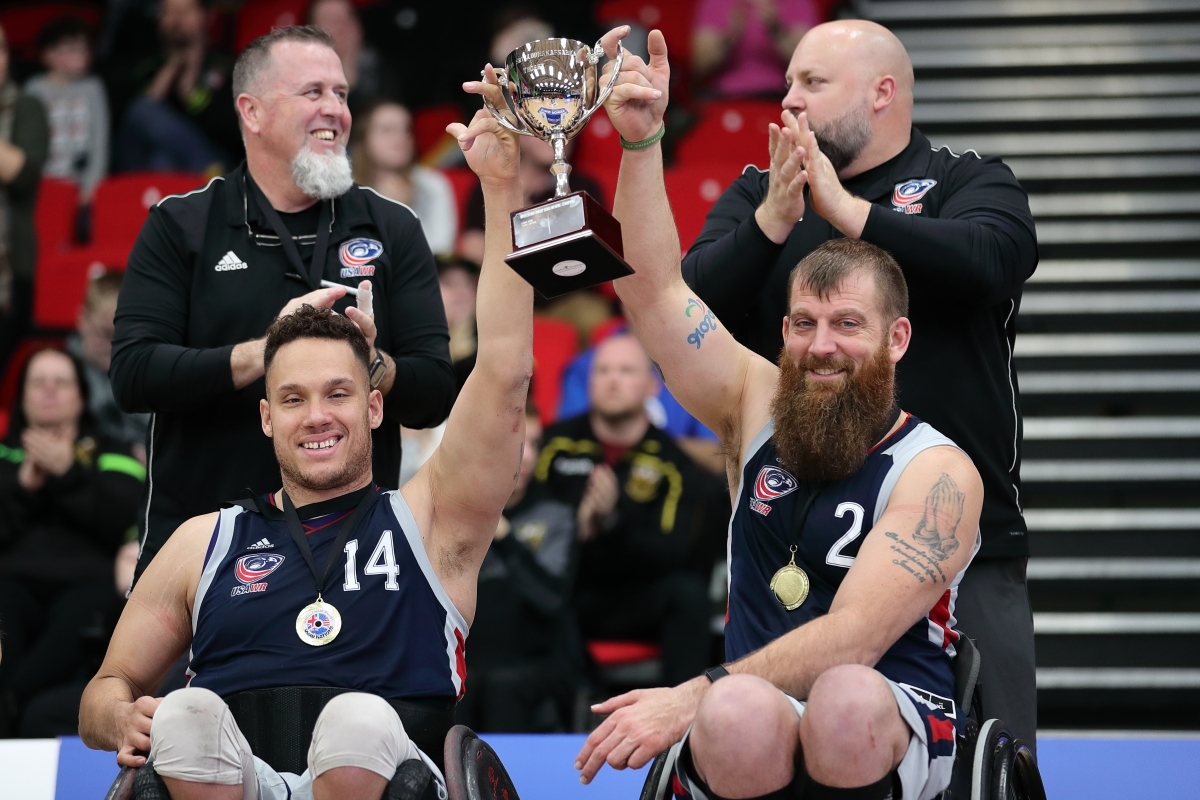 King Power Quad Nations – Day 3 round-up
---
USA completed a superb 2020 King Power Wheelchair Rugby Quad Nations campaign when easing past Great Britain to win the Vichai Srivaddhanaprabha Trophy.
The Eagles proved too good as they triumphed 53-42 in front of a Morningside Arena crowd which had witnessed some world-class sport over the past three days.
Britain booked their place in the final with a superb 61-53 victory over Australia in the play-off, but they were unable to produce the goods again as USA deservedly emerged victorious.
Play-off - Great Britain 61, Australia 53
GREAT Britain produced a brilliant display to convincingly beat Australia and set up a King Power Quad Nations final showdown with the USA.
The hosts delivered a sensational performance, particularly in the second quarter, as they secured an eight-try victory in a pulsating play-off at the Morningside Arena.
After losing both pool matches yesterday, Britain were determined to show a response in Leicester and they forced Australia in to using a time-out after just 36 seconds.
There was nothing between the sides as the first period ended 15-15 but, roared on by an enthusiastic crowd, the hosts accelerated in the second quarter.
Jim Roberts put Britain 16-15 in front, before he forced Steelers captain Ryley Batt out of play and Ryan Cowling crossed to make it 17-15.
Australia had elected to run with Batt and Chris Bond for the first time in the tournament at the start of the second quarter, but they could do nothing to prevent the home side extending their lead further when Roberts's fine steal led to Stuart Robinson wheeling over for a three-try advantage.
The Paralympic champions were up against it and were being forced into high risk plays which were duly punished three times as Britain raced into a 29-23 lead. The Steelers reduced the deficit, but had work to do as they trailed 31-27 at half-time.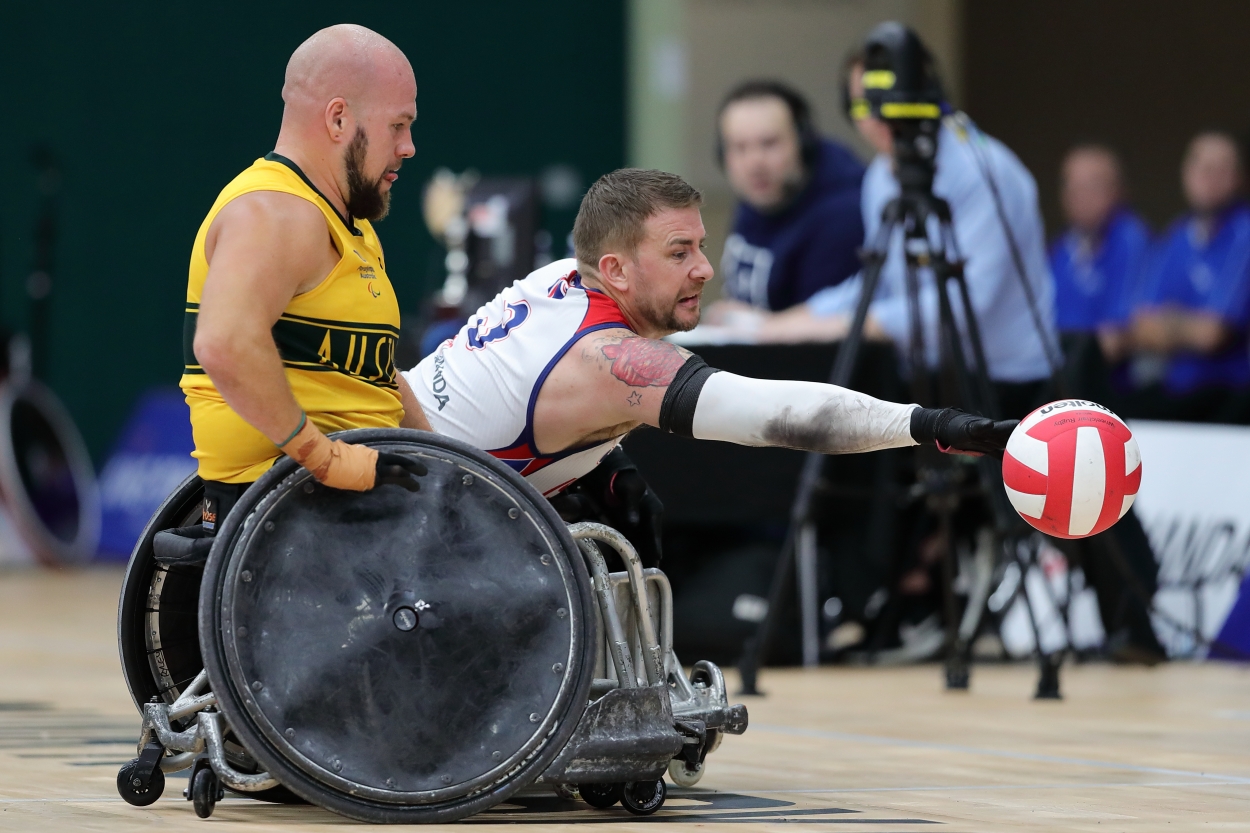 Great Britain's Stuart Robinson reaches for the ball during his side's play-off win over Australia
Britain continued to impress and Ayaz Bhuta's brilliant interception set up another try for Roberts to extend their advantage to five. Australia showed why they are the best team in the world by quickly closing the game up at 37-35 after two quick scores from Batt, but the hosts dug in again and came back to make it 43-39 heading into the final period.
They were not finished there and two more tries for Roberts saw them extend their advantage to seven. The Steelers never gave in and a Bond score cut the deficit to five, but another Australian error was punished with a couple of minutes remaining. Batt was unable to claim an Andrew Edmondson pass and Bhuta found his way over the line to put the game to bed and secure the home side's place in the final.
Britain's Jim Roberts said: "It was a great run out for us. We want to play as many games as we can, so it's great to have the opportunity to face USA in the final. Australia ran a lot of lines, they're here on a development tour, but we capitalised on their mistakes and that was the crucial thing. We were starting to get tired towards the end and they were too, but we ran a good defence."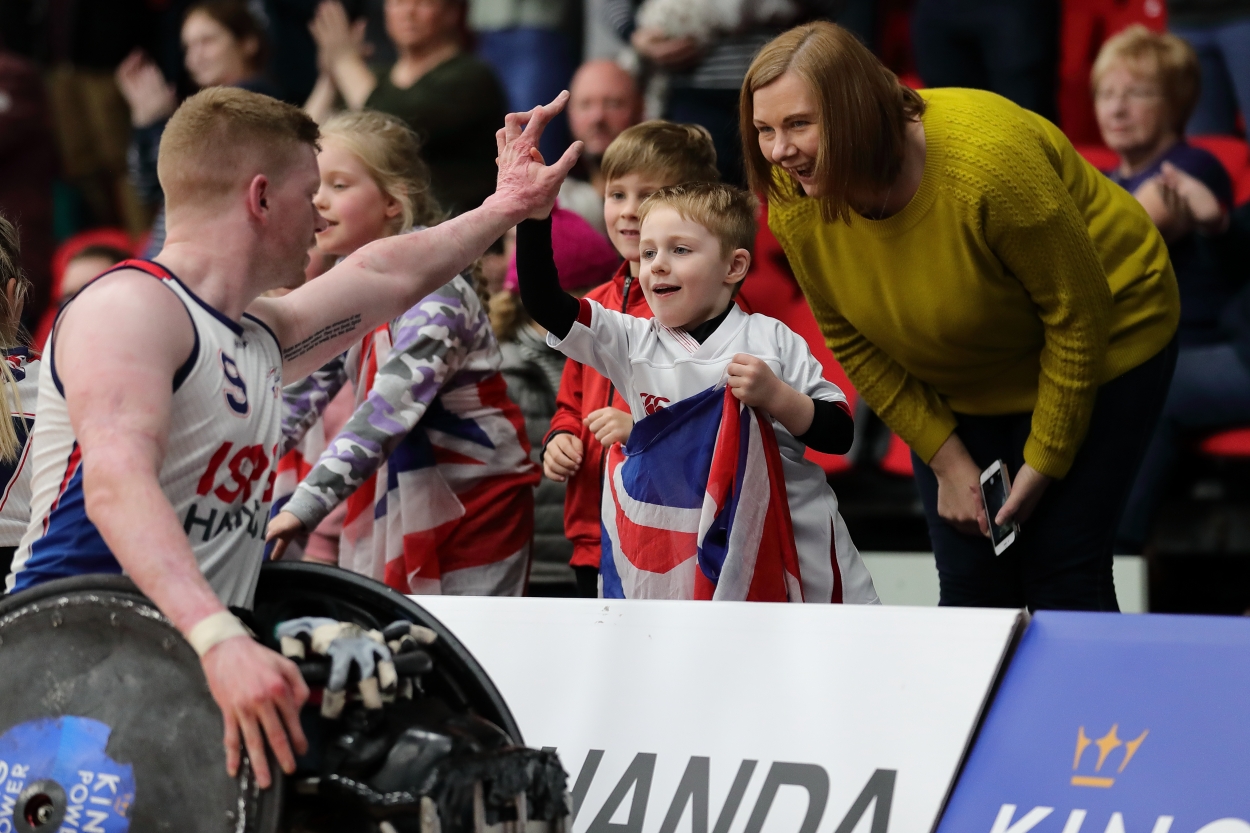 Jim Roberts high fives a young fan after Great Britain's victory over Australia
Final - USA 53, Great Britain 42
USA eased to an 11-try victory over Great Britain to become the 2020 King Power Quad Nations champions and claim the Vichai Srivaddhanaprabha Trophy.
The Eagles proved the team to beat over three days at Leicester's Morningside Arena and were in complete control of the final as they finished the tournament with a 100 per cent record.
Cheered on by an enthusiastic home crowd, Britain challenged USA early on but missed the injured Jim Roberts while Stuart Robinson was also forced off.
The hosts would have been hoping for a repeat of their heroics in beating Australia in the play-off earlier in the day, but soon found themselves behind.
Despite winning the tip-off and Gavin Walker opening the scoring, two early turnovers cost them dear with Chuck Aoki and Kory Puderbaugh crossing as USA opened up a 6-4 lead.
The Eagles headed into the contest with four pool stage victories and the hosts were pressured into another error, which was again punished by Puderbaugh as they found themselves three tries ahead. It then immediately became 8-4 as Aaron Phipps was penalised for illegal use of the hands and Aoki wheeled over.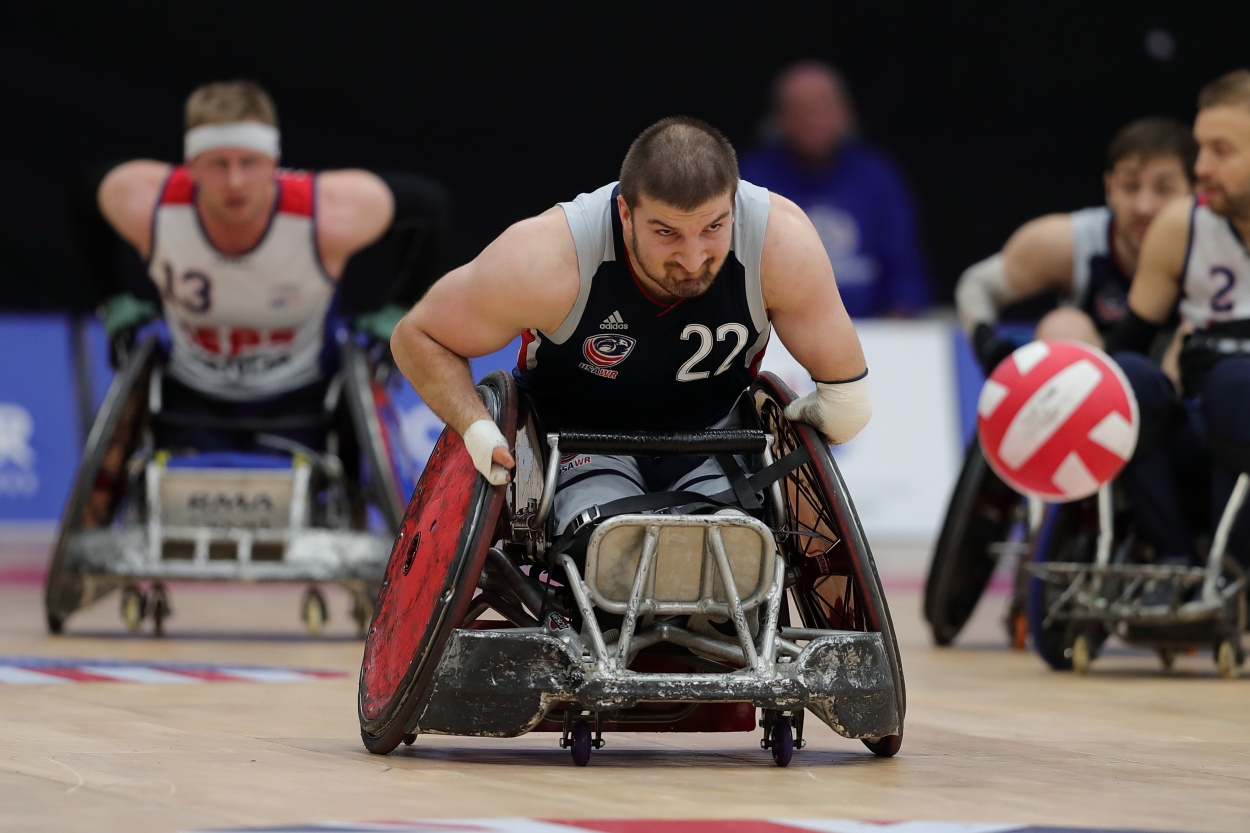 USA's Kory Puderbaugh chases down a long ball on the way to scoring a try against Great Britain
Britain already had work to do, but they finished the quarter well to cut the deficit to two tries. Aoki lost possession while on the attack with 21 seconds to go and Nick Cummins sent Phipps over the line as the USA's advantage was reduced to 13-11.
The Eagles had an opportunity to go further in front at the start of the second period, but the hosts brilliantly stole possession and Phipps raced over to close to within one try. However, USA went on to race into a healthy lead as they made the most of two penalties against the home side to be 26-21 ahead at half-time.
USA turned over possession again at the beginning of the third quarter and Aoki picked out Josh Wheeler, who rolled over the try-line backwards to make it 29-22. It could have been worse for the hosts after Phipps's pass to Jonathan Coggan was too high, but they immediately won back possession and the former went over to keep them six points behind.
With Roberts sidelined and Robinson forced off earlier in the game, Britain were up against it, while the Eagles were proving too strong. Chuck Melton's long ball proved an effective tactic time and again as they continued to add to their tally with little trouble and they led 39-31 heading into the final quarter.
Britain had a mountain to climb, while USA were far too clinical with Joe Delagrave increasing their lead before Ray Hennagir scored the final try of the game as they left the arena in a celebratory mood.
USA's Josh Wheeler said: "It was a good game, it was fun. We were disappointed Jim Roberts didn't play for Great Britain, but we got to run lines and everyone played. They gave us a good game for a little bit, but they didn't have Jim and that made a difference. It's pleasing to win every game, especially when we're developing players, getting returning players back into the mix and lines we've never had before are running smoothly. There's been some awesome rugby and we've enjoyed watching and playing against Australia and Great Britain."

USA celebrate winning the 2020 King Power Quad Nations
All photos taken by Megumi Masuda