News Home
---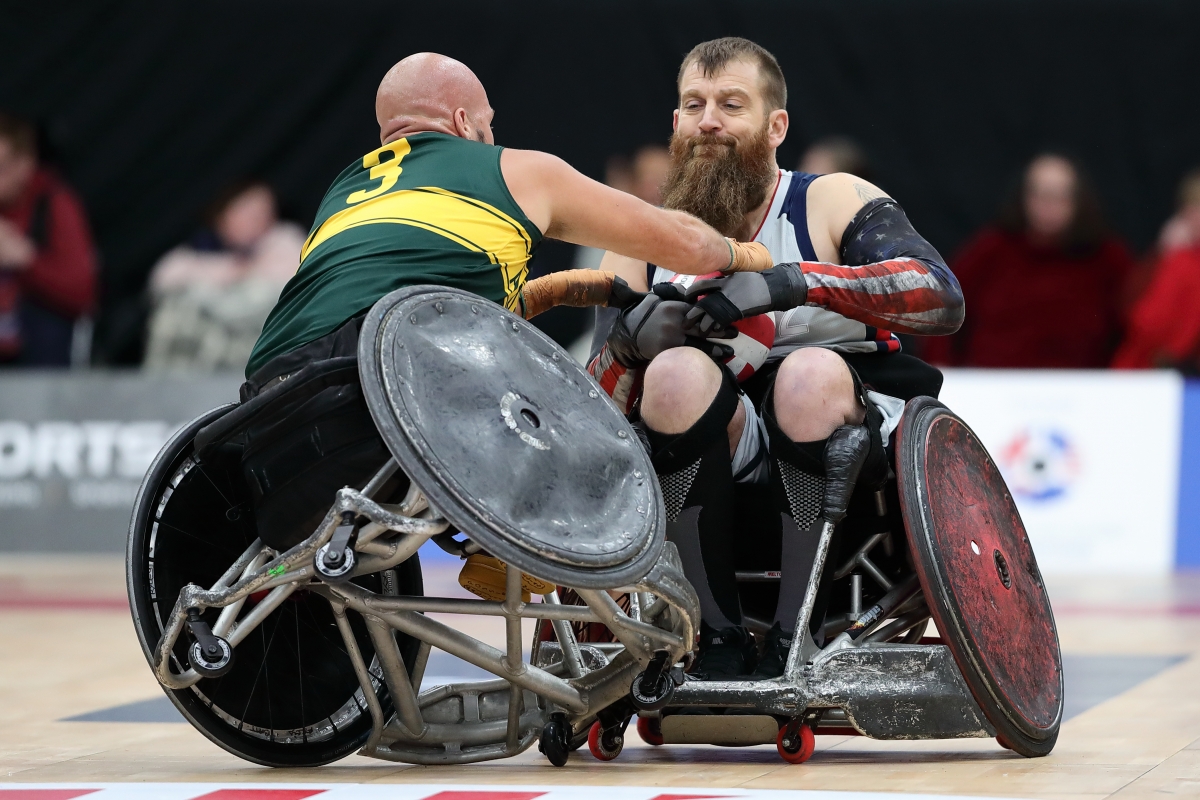 King Power Quad Nations – Day 1 round-up
---
USA made a lightning start to the King Power Wheelchair Rugby Quad Nations with two victories on the opening day in Leicester.
The Eagles eased to a 54-42 victory over Australia, before beating Great Britain 65-64 in a gripping contest which needed four periods of over-time.
The hosts then finished the day with their first win of the tournament, overcoming Australia 58-46 to sit two points behind early leaders USA in the table.
Tomorrow's action begins with Australia v USA at 11am, before the Steelers take on Britain at 3pm. The evening session, which starts at 7pm, then sees the USA face the hosts.
USA 54, Australia 42
USA made an impressive start to the King Power Quad Nations, beginning the tournament with a convincing 54-42 win over Australia.
The Morningside Arena was treated to an opening game which pitted the two best teams in the world against each other.
This time it was USA, ranked second, who came out on top in front of an enthusiastic Leicester crowd.
An experimental Australia opened the scoring through Chris Bond, but that proved to be the only time they were in front as they played catch-up for the remainder of the contest.
Chuck Aoki's try with just five seconds left on the clock ensured the USA led 13-11 at the end of the first quarter and it was an advantage they built on.
Turnovers led to tries for Kory Puderbaugh and Joe Delagrave as the USA established a 17-13 lead, but Australia stayed just about in touch thanks to an effective partnership between Ryley Batt and Andrew Edmondson.
The advantage was then extended to five tries when the USA made the most of Shae Graham spending time in the penalty box as Pudernaugh crossed again, helping them head into half-time 27-22 to the good.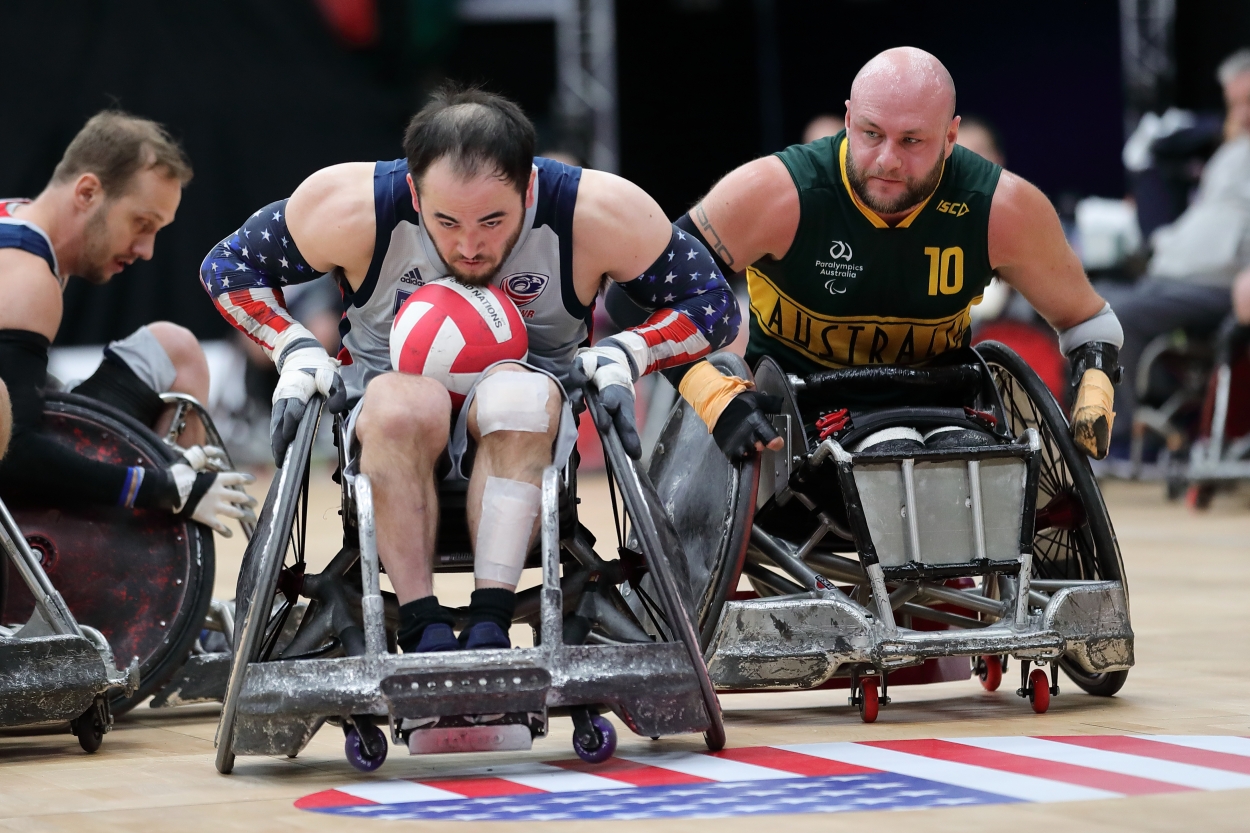 USA's Chuck Aoki bids to break forward during his side's victory over Australia
Paralympic champions Australia had a mountain to climb and great wheeling down the right led to Batt cutting the deficit, but by which time they only had one time-out left.
Bond had also been prolifically scoring for the Steelers, however USA were controlling the game brilliantly and Aoki and Delagrave both crossed within the last nine seconds of the third quarter to make it 41-33.
Aoki then made it a ten-try lead at the start of the final period, before they went on to secure a commanding victory.
USA's Kory Puderbaugh said: "It was a great game and a good win. We have a strong team and we're building. We're here to develop everything and prepare for Tokyo – that's the main focus. I love my guys, we all play well together and we're only going to get better and we also have incredible staff. It's incredible to be here at the King Power Quad Nations in Leicester. It's a great facility at the Morningside Arena and the support has been amazing."
Great Britain 64, USA 65
USA made it two wins out of two when beating hosts Great Britain in a pulsating fixture which needed four periods of over-time.
It was a contest which had everything and had the crowd on the edge of their seats as they witnessed a fine advert for wheelchair rugby at the start of this Paralympic year.
Joe Delagrave's last-gasp try took the game into over-time after the sides were locked at 50-50, before a dramatic four extra periods ensued.
Britain's Gavin Walker opened the scoring after 16 seconds of the contest and nothing could separate the sides after three minutes, with both teams crossing six times each.
The long ball to Walker and Jim Roberts was proving successful in an open match, while USA had a variety of threats and Chuck Aoki's try in the last seconds of the quarter saw them go 14-13 in front.
That was an advantage they maintained heading into half-time, but Britain did well to peg them back after trailing 16-13. They took advantage of Ray Hennagir's time in the bin to move within a try, while Stuart Robinson produced one of the scores of the tournament so far to weave through the entire US team to cross as his side trailed 26-27 at the break.
The hosts levelled at 28-28 early in the third quarter, before taking a bit of control. Walker's fine steal set up a British attack and the Leicester Tigers player was then fed by Roberts for a try, before Nick Cummins put them into a two-score lead. However, the USA had the final say in the quarter, with Britain just in front at 40-39.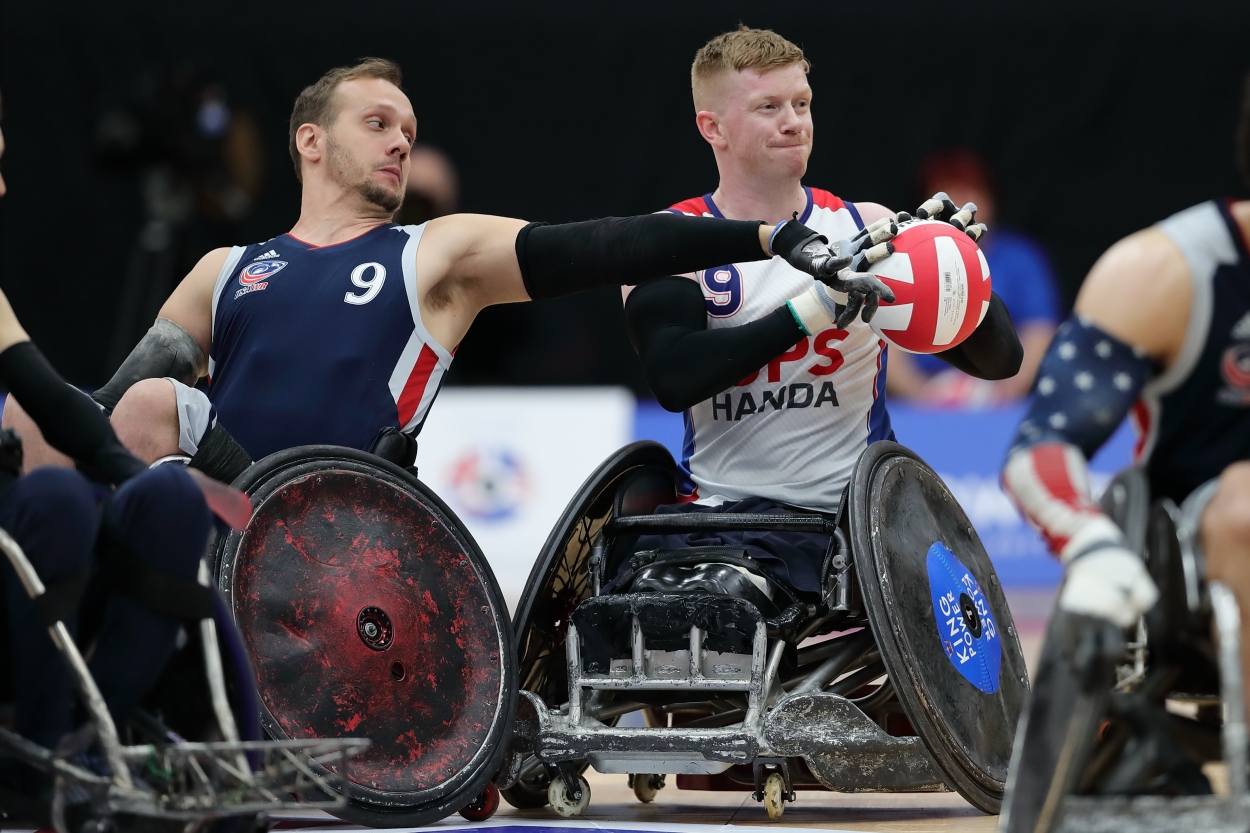 Great Britain's Jim Roberts looks for a teammate as USA's Eric Newby looks to prevent his progress
With Wheeler in the penalty box at the start of the final quarter, the home side took full advantage to re-establish their two-try lead through Robinson, who also rolled over again as Britain went 44-41 to the good. But the USA dug deep and pulled themselves back within one before managing the latter stages well to set up Delagrave for a late equaliser.
Three minutes of over-time ensued and, once again, USA left it late to level things up, calling a time-out with three seconds to go which allowed Aoki to cross and even it at 54-54.
The hosts were up against it in the second period with Roberts unable to claim a high ball and Aoki taking advantage to make it 56-55, but they could not take their chance at the end of time with Delagrave unable to keep hold of the ball as he attempted to cross for what would have been a match-winning try.
Locked at 58-58 at the start of the third period of over-time, there was more drama to come. With both teams on 62, Britain looked certain to clinch it in the dying seconds, but Cummins was unable to gather Robinson's pass, before USA quickly broke up the court only for Aoki to be denied by the buzzer.
It was edge of your seat stuff and it was to be resolved in the fourth period of over-time. USA used their remaining time-outs well to run down the clock and set up an opportunity for Delagrave to wheel over with 14 seconds to go. There was still time for a British response and Cummins looked to have dramatically crossed, but no try was given.
Britain's Stuart Robinson said: "It was a great spectacle for the crowd especially if it was the first time they had seen wheelchair rugby, it had everything. It was great play by the USA to win, but we know we can do a lot better and there's a few things we need to work on but we can rectify that. We had quite a few opportunities to finish it off, but a few errors let us down. It's a bit uncharacteristic of us, we're usually clinical and hopefully we can put that right."
Great Britain 58, Australia 46
GREAT Britain finished off an excellent opening day with an impressive victory over Paralympic champions Australia.
Following an even first quarter, the hosts cruised to a 12-try success at the Morningside Arena to record their first win of this year's King Power Quad Nations.
Both No 3s, Stuart Robinson for Great Britain and Ryley Batt for Australia traded scores in the opening 30 seconds of the match.
They both led the way for their sides in the opening exchanges, while Jayden Warn had combined well with Batt as the teams were locked at 15-15.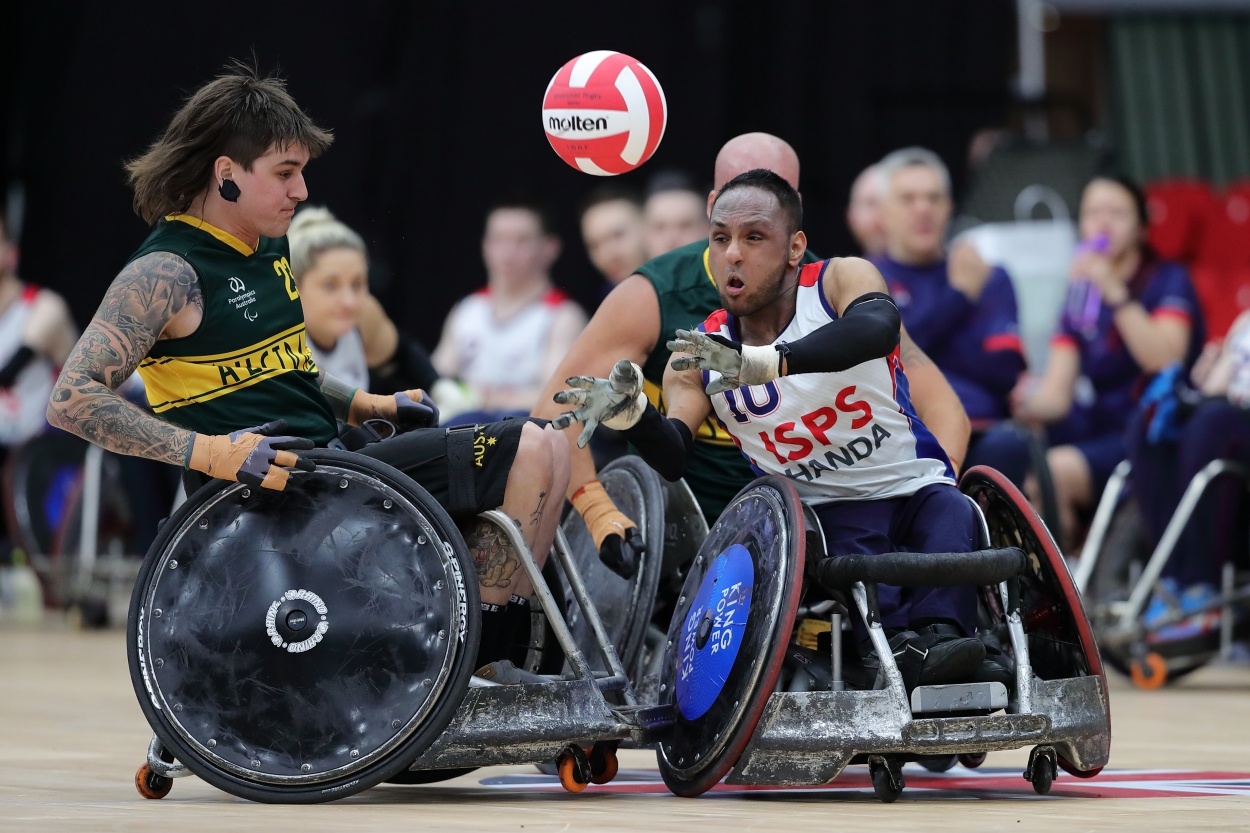 Great Britain's Ayaz Bhuta passes while under pressure from Australia's Jayden Warn
The crucial turnover arrived early in the second quarter and it went Britain's way. Batt's throw came off the back of Andrew Edmondson's chair and Aaron Phipps found Jim Roberts in plenty of space to cross. The lead soon became 20-18 when the same players combined after Phipps had intercepted a pass.
Britain's No 13 had really come to life and he was effective off the ball also, with one bruising collision with Edmondson resulting in the Australian's left wheel coming off. Phipps was also on hand to extend the home side's lead to four tries, before Nick Cummins ensured Britain led 29-25 at half-time.
Australia were now playing catch-up and the host nation kept the hammer down, extending their lead to 43-36 by the end of the third quarter, with two Roberts tries as a result of turnovers.
Britain then continued to stretch their lead in the last period as they comfortably recorded their first triumph.
Australia's Chris Bond said: "We definitely under-performed today. That being said, we've not really played since October, so at this stage we're looking to develop some lines and try things out. Paralympic year is quite a long year, there are a lot of events, but the way this tournament is structured we need to win the last two games, so we'll look to build tomorrow. Every game we play is going to benefit the team. Let's say we'll be playing the semi-final on Saturday and we'll bring our best."
All photos taken by Megumi Masuda