News Home
---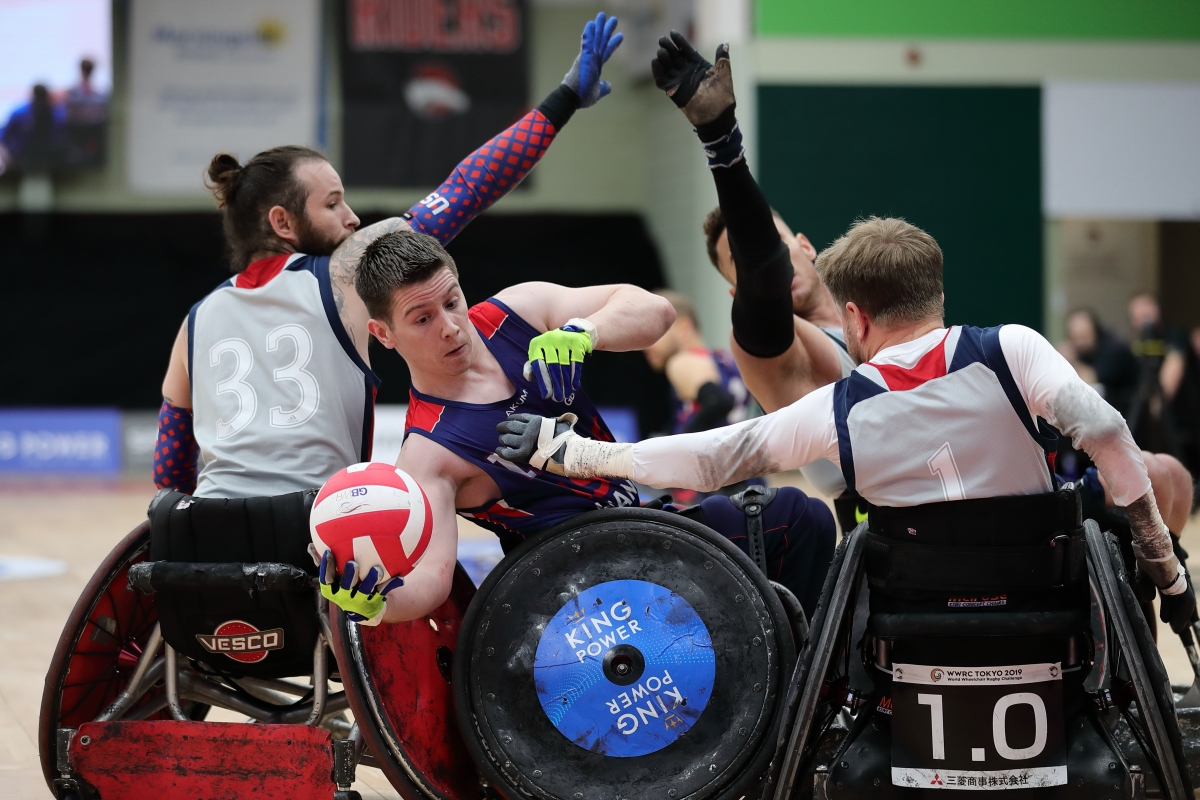 King Power Quad Nations – Day 2 round-up
---
USA continued to shine on the second day of the King Power Wheelchair Rugby Quad Nations as they booked their place in tomorrow's final.
Starting the day with a 57-51 victory over Australia, they found themselves four points clear at the top of the group.
And Australia's gripping 58-57 win over Great Britain meant USA's place in the final at 3pm on Sunday was secured as they could no longer be caught.
Saturday's action ended with the host nation bidding to head into tomorrow's play-off with the Steelers, which takes place at 11am, on the back of a confidence-boosting win, but the Eagles secured a 55-50 victory to finish the pool stage with a 100 per cent record.
Australia 51, USA 57
USA continued their strong form in the King Power Quad Nations when securing another convincing victory over Australia.
The Eagles made it three wins from as many games at the Morningside Arena, easing to a six-try success over the Paralympic champions who are continuing to experiment in Leicester.
USA took advantage of two early Australia infringements, with Chuck Aoki and Kory Puderbaugh crossing to go 3-1 and 6-4 in front. The Steelers kept themselves in touch with Ryley Batt and Jayden Warn linking up well, but they were playing catch-up.
The Eagles then found themselves 13-9 to the good when Puderbaugh brilliantly stole the ball from Michael Ozanne and found Josh Wheeler to score. Australia then reduced the deficit to two tries at the end of the first period when Warn intercepted an Aoki pass as they trailed 15-13.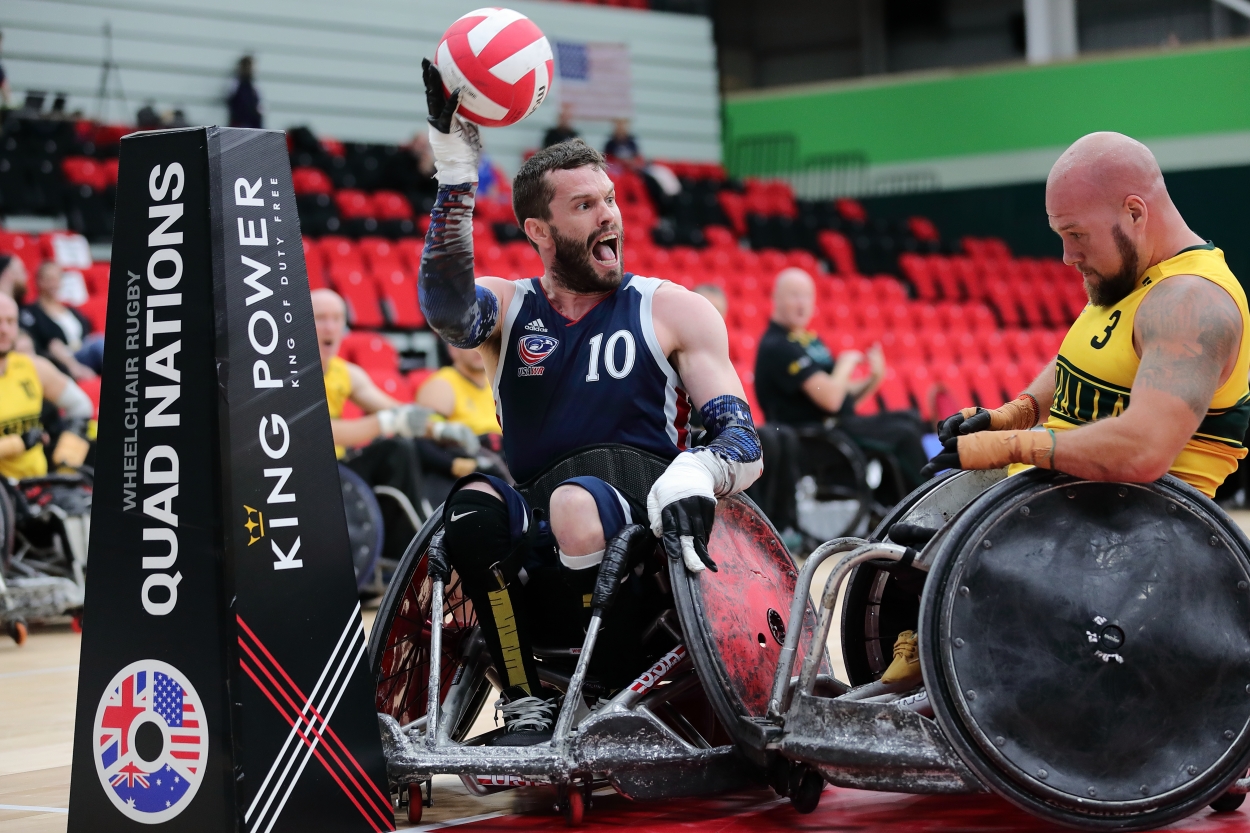 USA's Josh Wheeler desperately looks for a pass to set up a try while under pressure from Australia's Ryley Batt
Their fightback continued in the second quarter as they opened up a 20-17 lead, thanks to Josh Nicholson's brilliant solo effort before Chris Bond forced a USA error to cross. However, their advantage was cut to one try at half-time as the Eagles closed in at 29-28.
It had been a close battle between the two best teams in the world, but USA found another gear.
Wheeler had impressed throughout and cut out three passes from Batt as the Eagles raced into a 44-40 lead. He scored two tries off the first two interceptions, before finding Joe Delagrave who set up Aoki.
Australia had work to do in the final quarter, but they were unable to prevent the Eagles from extending their advantage.
USA's Ray Hennagir said: "We're playing well. This is a good playing experience for me. This is only my second year and I'm getting the opportunities to go out there to make the mistakes I need to and learn from them. We're playing great as a team and everyone is going out there working hard for each other. Australia are running lines, but it's always nice to get some convincing wins."
Australia 58, Great Britain 57
AUSTRALIA dug deep to overcome a battling Great Britain side and record their first win of the 2020 King Power Quad Nations.
Just like yesterday, the 3pm fixture went to over-time, but it was resolved after one extra period with the hosts agonisingly squeezed out again.
Stuart Robinson's try for Britain had seen the contest finish 50-50, but Ryley Batt's score while Jim Roberts was in the penalty box proved crucial in the added three minutes as Australia ended the pool stages with a victory.
There was nothing to separate the sides in the opening quarter, with Robinson for the hosts and Batt for the Steelers controlling the attacks.
Britain headed into the second period with a slender 15-14 lead, but Australia soon went in front. Batt got his fingertips on a Roberts pass and forced his way over to make it 17-16, before Edmondson used a time-out well, signalling before he went out of play after chasing a long pass from Batt. That paid off as Australia's No 14 crossed in the following play for a 22-21 lead.
The Paralympic champions then took a 30-27 lead into half-time after Edmondson crossed while Jamie Stead was in the sin-bin.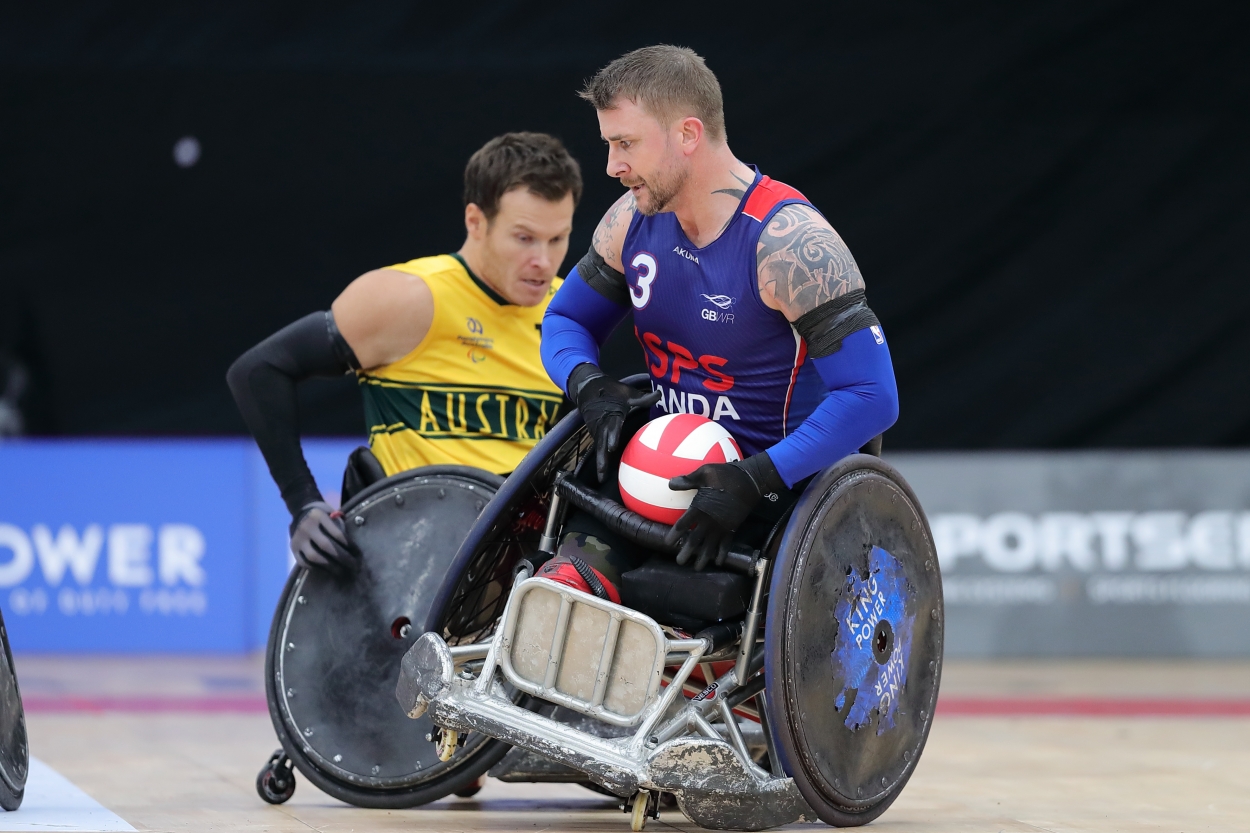 Stuart Robinson tries to keep a Great Britain attack alive against Australia
Chris Bond and Jayden Warn's partnership was also paying off for the Steelers as they continued to keep Britain three points behind. However, Robinson did brilliantly to force an error from Bond and Aaron Phipps went over to reduce the arrears to one with the score at 37-36. Despite then drawing level through Robinson, the home side headed into the final quarter 42-40 down.
There was still plenty to play for and, after an Australia attack broke down with three minutes and 30 seconds left on the clock, Roberts was fed by Robinson to make it 49-49. An exciting finish was in store when Bond powered across to put Australia a point in front with 14 seconds to go, but Britain held their nerve to send the game to over-time as Robinson found a gap with just 1.7 seconds remaining.
There was to be no repeat of yesterday's four periods of over-time, but it proved the same outcome for the hosts. With Roberts in the penalty box, Australia used as much time as possible before Batt wheeled over to make it 55-53. The Steelers found themselves 58-56 in front with 11 seconds to go and there was only time for the hosts to cross once more through Roberts as they found themselves a point short.
Australia's Andrew Edmondson said: "It was a really tough game. Great Britain are an improving team and it was always going to be difficult. We never thought we'd done enough, particularly against a team like that and they fought all the way to the end. It was a good win after a rough day yesterday, but we also had a good fight against the USA. We have not run one of our main line-ups yet, so to win without that is really good and to get minutes into other players against such experienced teams will do us good heading into the Paralympic Games."
USA 55, Great Britain 50
USA finished the pool stages with a 100 per cent record as they proved too strong for Great Britain in the evening session.
The Eagles took a two-score lead from six minutes into the first quarter and never looked back to secure a five-try victory and make it four wins out of four in Leicester.
It took Britain eight seconds to open the scoring through Stuart Robinson, while USA used two of their four time-outs within the first four minutes of the fixture.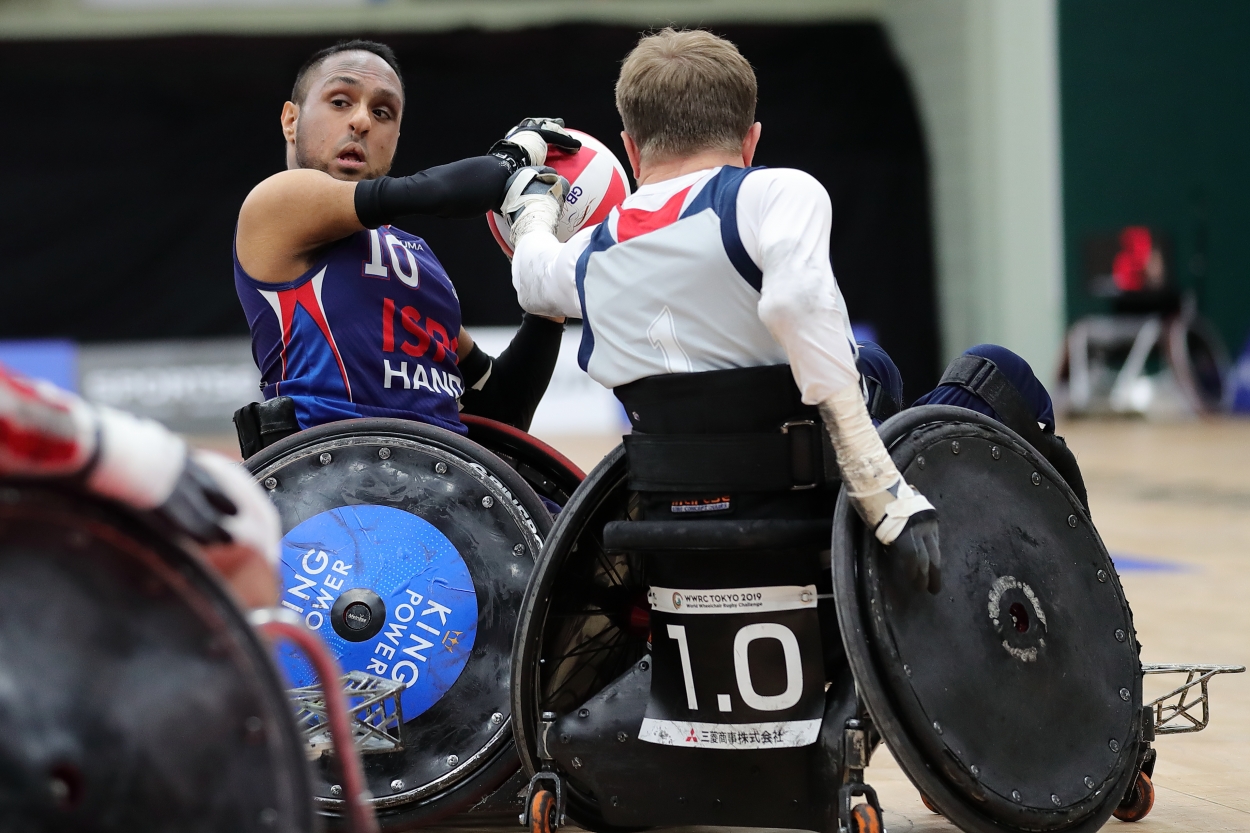 Great Britain's Ayaz Bhuta attempts to keep possession while under pressure from Lee Fredette
The first crucial moment arrived after six minutes when Robinson was penalised for spinning Josh Wheeler and Chuck Aoki found his way through the defence to score and make it 11-9, before USA finished the first period with a 15-12 lead.
They extended their advantage to four points at the beginning of the second quarter, but that was quickly reduced to one when Jamie Stead and Aaron Phipps crossed following two fine interceptions. However, the USA responded brilliantly to head into the break 28-24 in front after Wheeler stole possession late on to wheel over.
The Eagles continued where they left off and Joe Delagrave produced a fine steal from a Phipps pass to make it 31-25. Britain were up against it and had used up all of their time-outs, while another Delagrave try extended USA's lead to six.
The hosts have shown plenty of fight so far at the Morningside Arena and there was plenty more of that on show in this contest. Phipps led the way with more than 20 tries, but they had left themselves with too much to do as USA secured a five-try victory.
Britain's Aaron Phipps said: "USA are tough and are the Paralympic silver medallists. I think we made a few errors which we shouldn't have, but we'll now refocus for the play-off tomorrow. We've not seen Australia's strongest line-up yet. We might see it tomorrow, so we will have to come out firing. It's all or nothing time."
All photos taken by Megumi Masuda